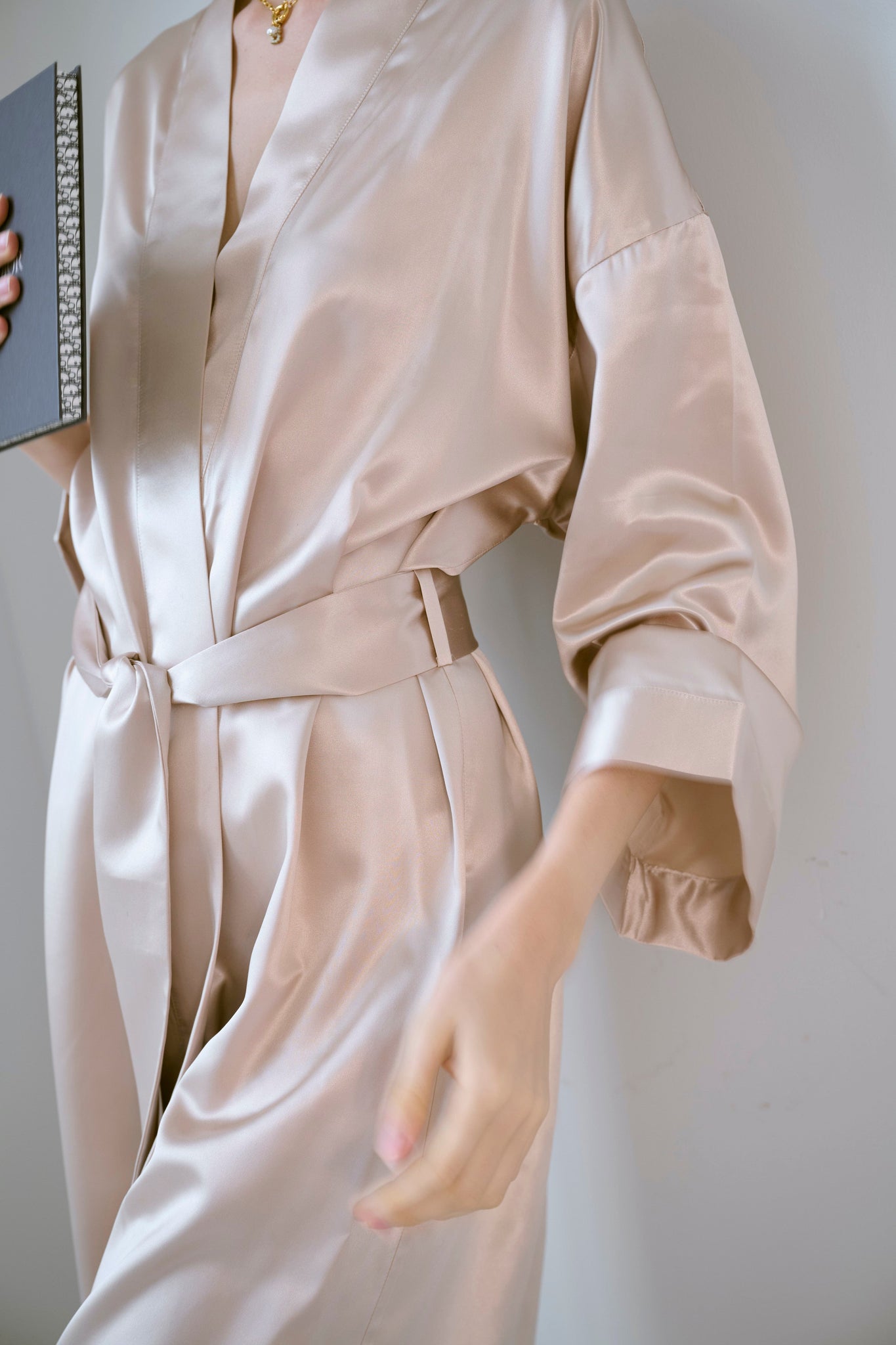 Bui 22mm Classic Robe (Plain Caramel)
Regular price

4,850.00 THB

Sale price

4,850.00 THB

Sale
'Made from 100% finest 22momme 6A-Grade Mulberry Silk.'
Bui's Classic silk robe is the only way that you could lounge your 'me' time in style. 100% made from finest Mulberry Silk. The silhouette is quite feminine with perfect curves around the waist. We also use special techniques to make the collar and sleeves have a perfect weight that you can feel the luxury and in-shape. The mid-length sleeves are quite wide with a modern Kimono style (narrow fan shape) and total length is just below the knee for the most practical use.
Color : Plain Caramel
Property :
- Anti-Aging by reducing wrinkles and creases on your skin from top to bottom
- Less absorbing facial and body cream and keep your skin moisturized during the nights.
- Temperature balancing  with breathable high quality silk fabrics
- Hypoallergenic that it is resistant to dust mites, molds, fungus and other allergens.
- Enhancing sleep quality with soft, silky, slippery touches.
---------------------------------
 'ทำจากผ้าไหมมัลเบอร์รี่ เกรด 6A ความหนา 22 momme 100%'
ชุดคลุมรุ่นคลาสสิคจาก 'Bui' ทำจากผ้าไหมมัลเบอร์รี่ทั้งตัว ใช้ได้เมื่อคลุมเล่นลำลองหรือคลุมชุดว่าย คลุมอาบน้ำในช่วงเวลาส่วนตัว มีแพทเทิร์นที่เน้นจุดโค้งเว้ารับรูปร่างเป็นพิเศษ และมีการใช้เทคนิคพิเศษเพื่อทำให้ส่วนคอและแขนมีทรงและน้ำหนักมากกว่าช่วงตัว ทำให้รูปทรงของชุดคลุมยังเป็นทรง ไม่ย้วยแนบตัวจนเกินไป วงแขนกว้าง ยาวไม่ถึงข้อมือ และมีความยาวโดยรวมระดับน่องถึงเข่า เพื่อความสะดวกในการใช้งานได้จริง
ตัวเลือกสี : สีเรียบคาราเมล
คุณสมบัติ :
- ต่อต้านริ้วรอยแห่งวัยด้วยคุณสมบัติความนุ่มลื่น ที่ลดรอยย่นรอยยับบนผิวตั้งแต่คอจรดปลายเท้า
- ผ้าไหมมัลเบอร์รี่สามารถลดการดูดซับครีมที่เคลือบผิวอยู่ได้มากกว่าผ้าชนิดอื่น ทำให้ครีมที่ทาไว้ไม่ถูกดูดออกและยังชุ่มชื่นระหว่างการนอนตลอดคืน
- รักษาความสมดุลของอุณภูมิร่างกายด้วยผ้าไหมทอละเอียดที่ให้ความอบอุ่นเมื่ออากาศเย็นและยังคงความเย็นเมื่ออากาศร้อน ทำให้คุณภาพการนอนหลับดีขึ้น
- ลดอาการแพ้ต่างๆ เหมาะสำหรับผู้ท่ีเป็นภูมิแพ้ทั้งทางผิวหนังและทางเดินหายใจ เพราะผ้าไหมคุณภาพดีลดการกักเก็บละอองฝุ่น ไรฝุ่น เชื้อรา
- ช่วยทำให้การนอนหลับมีคุณภาพมากขึ้น หลับสนิทขึ้นด้วยสัมผัสนุ่มลื่น สบายผิว
Regular price

4,850.00 THB

Sale price

4,850.00 THB

Sale
Tax included.
Adding product to your cart